A Smart Home Air Quality Monitoring System
NOTE: This article/blog is Copyright TronicsZone. It cannot be reproduced without prior written approval.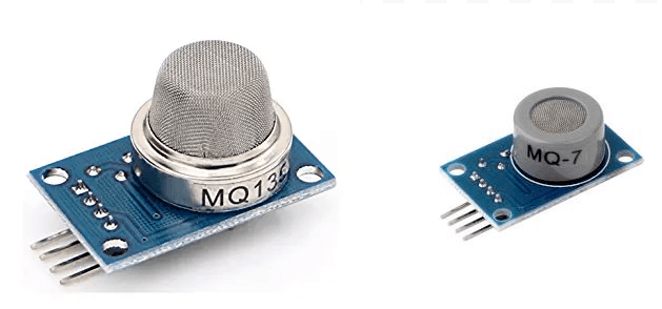 Smart home – An overview
A smart home is a user-convenient home setup, where the home appliances and devices are smart, that is they are interconnected and are remotely operable. All we need is a mobile device or any other device with a network to access and control them. Functions such as access to home security systems, temperature, lighting, water management, and air monitoring shall be done on the go.
A smart home setup further enriches our day to day activities by aiding us to make informed decisions. One such device is an IoT sensor in the form of an in-home air monitoring system. This system will ensure a blissful environment indoors be it office or home.
Air Pollution Hazards
Air is an inseparable part of life. Air quality is affected in recent times due to excessive exhaust and greenhouse emissions. Typical air pollutants include carbon dioxide (CO2), carbon monoxide (CO), nitrogen oxides (NOx), particulate matter (PM2.5, PM5) and many more. Delhi air quality has been recently in the news, and in such an urban setup, it becomes increasingly important to monitor air quality.
Inhaling impure air may cause breathing difficulties or may result in respiratory diseases. Monitoring the actual quality of air will help us in making informed decisions. Especially, indoor pollution is much more dangerous than outdoor due to an increase in pollutant level indoor or closed rooms.
Air monitoring device architecture
Our indoor air monitoring system typically consists of a collection of sensors to collect data on different pollutants, a microcontroller to process the data collected and a WiFi module to transmit the data to a remote controlling unit or to the end-user. A Raspberry pi controller can be used as an easy means to receive, retrieve and display data.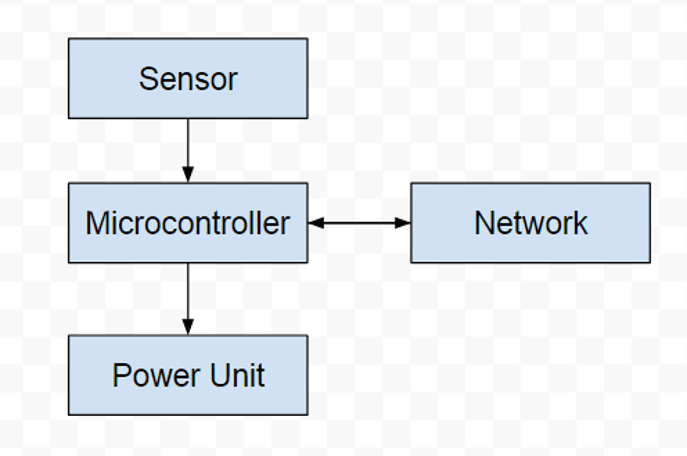 Sensor Selection
Specific sensor is used to monitor specific air pollutants. MQ135 can be utilized to sense a wide range of pollutants such as NH3, NOx, alcohol, benzene, smoke, and CO2. MQ7 is used as carbon monoxide sensor. MQ-6 is LPG, butane sensor. This sensor can also be utilized to provide cooking gas safety as an added feature. MQ309A can be utilized to sense both carbon monoxide and any flammable gas. The sensitivity of the sensors is based on the presence of pollutants in parts per million. For example, the sensitivity of MQ135 for NH3 is 10 – 300 ppm.
Sensor output data is typically analog, though digital output sensors are also available. This analog data is digitized in the sensor module and fed to the WiFi module for transmission.
IoT Communication setup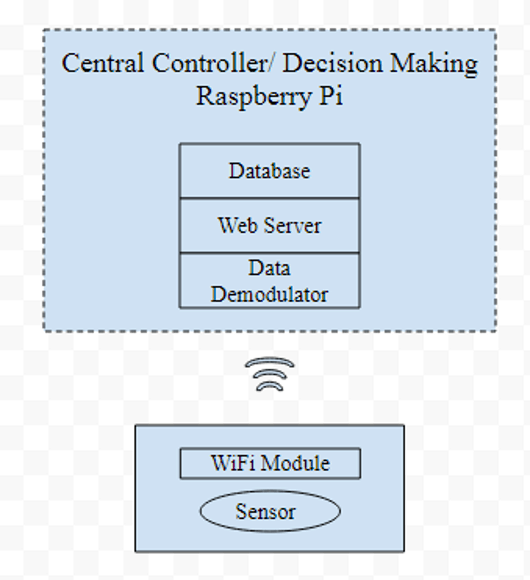 Sensor data is digitized using an on-board ADC enabled microcontroller. This data is shared with the main console via the internet over a WiFi network. The network layer function is to transmit sensed data by connecting all the air sensors deployed in the monitoring area to the central console in real-time. Data is transferred in form of TCP packets from the sensor node to the central console. The application layer in the console retrieves the data compares it with the database. The air quality values are also displayed for manual verification.
Air quality index and alert
As specified above the sensor output will be presence of any gas in parts per million. Based on the ppm of pollutants present in the air, and air quality index (AQI) value is created at the central console. Database comparison is done to arrive at the AQI values. India follows the 500 point scale. On the basis of the current AQI value, corresponding alert is issued by the system. The various index values and their significance is given in the table below.
Air Quality Index

(AQI) Values

Levels of Health Concern
Colours
AQI Range
Air quality conditions
Symbolized by this colour
0 to 50
Good
Green
51 to 100
Moderate
Yellow
101 to 150
Unhealthy for Sensitive Groups
Orange
151 to 200
Unhealthy
Red
201 to 300
Very Unhealthy
Purple
301 to 500
Hazardous
Maroon
Remedies for air quality deterioration
Heating, ventilation, and air conditioning (HVAC) systems are used in companies to provide thermal comfort to employees. Environment-friendly HVAC systems such as solar-powered systems can become a viable alternative. Electric mobility can sizeably decrease carbon emission. At home indoor plants that purify air can be used with IoT based auto water sprinklers to maintain the ambiance and the air quality.
Conclusion
Air quality is an essential part of a healthy lifestyle. With accurate data on air quality and more research on improving the same, technology will help us retain the environment. IoT based smart in-home air monitoring system will enable us to maintain a good office or living space with informed decision making.
TronicsZone
Tronicszone is one of the leaders in designing IoT hardware products with solutions for all commercial and industrial requirements. We boast an experience of 17+ years in customized IoT hardware design & manufacturing.
NOTE: This article/blog is Copyright TronicsZone. It cannot be reproduced without prior written approval.