How can IoT revolutionize smart home design?
NOTE: This article/blog is Copyright TronicsZone. It cannot be reproduced without prior written approval.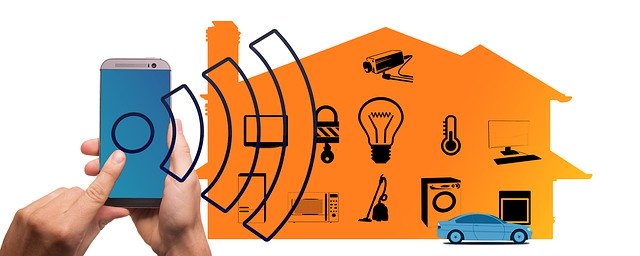 Smart Home appliances are becoming the most sought after devices that have the ability to enhance the quality of your day to day life. With the world moving towards a more active outdoor lifestyle, the need to need to constantly monitor your home and take remote decisions using home appliances is becoming essential.  Internet of things or IoT will provide you the most reliable and cheap control over your home appliances to ensure a safe and a secure home
Consider a scenario of being at work or weekend outing, or a long vacation; the problems such as home surveillance, fire protection, indoor/outdoor garden maintenance have a successful answer in IoT enabled home security and safety systems.
This article will provide you an insight into key areas of smart homes such as home security, safety and remote decision making.
Key components of Smart Home Design
Home Surveillance/Anti- Theft Systems
Home Automation
Electric fire Saftey
Kitchen fire Saftey
Elder/Children care
In-vehicle safety
Indoor garden management
Home Surveillance System
Home surveillance and monitoring will provide us you with 24/7 remote access to your home.  IoT enabled smart camera with Iot Sensor network will provide real-time data. IoT sensors further equipped with a modified background subtraction algorithm (motion capture) which will largely help in avoiding false alarms. The  Surveillance system can collect and analyze critical data for security and future automated decision making.
Image sensors Play an important role in home surveillance system. These sensors convert optical images into electronic signals and store them as digital data. The most common image sensors are charge-coupled device (CCD) and (CMOS) complementary metal-oxide image sensors
Anti-theft systems are equipped with camera and motion sensors are highly reliable and will provide an early warning which will ensure the time to provide a prompt response.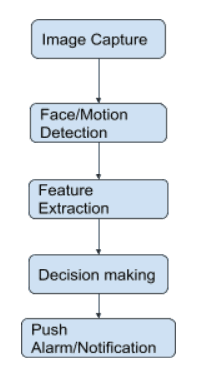 Figure 1 : Surveillance system processing
Home Automation
IoT hardware can help to automate your home appliances making your home smart. Interactive services provided by appliances such as television, refrigerator, air conditioner can be utilized to remotely control their operation with a single device. Other appliances such as door lock, thermostat, backyard lightning, microwave oven can also be coordinated and controlled using IoT devices.
The most interesting aspect of the Home Automation system with IoT is that the settings are manageable from your smartphones itself from any remote location. Further, these devices can be trained to take automated decisions also.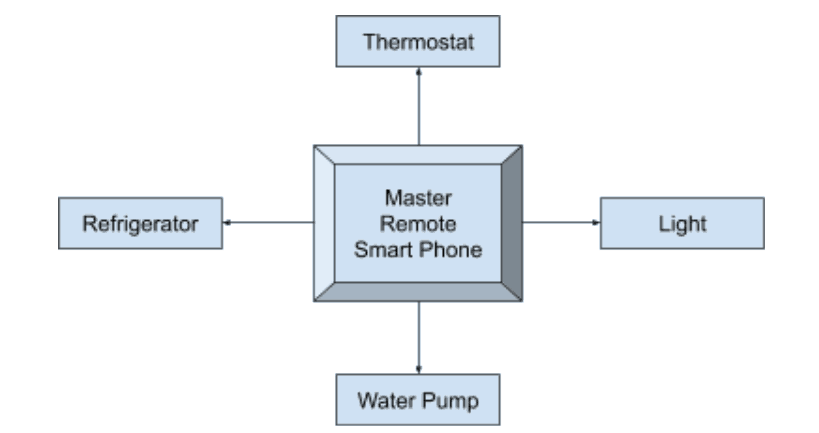 Figure 2 : Home Automation using IoT
Electric Fire Safety
Domestic fire alarms are a boon to prevent electric fire accidents. Typical sensors used are temperature and smoke sensor. Sensors connected with a processor with a Wi-Fi module sends data such as temperature in Celsius; smoke value; device ID; timestamp to the IoT server. Based on the data the server can accurately determine the place and amount of fire. The fire system will activate the water sprinkler and shall alert the local fire service station and the registered user.
Fire sensors coupled with image sensor data can produce a heat map which can accurately provide information on the heat source location. Quick alarm can definitely save economic and personal loss.
Kitchen Fire Saftey
Domestic kitchen fire safety systems are pretty much similar to electric fire safety systems.  The only difference is that along with temperature and smoke sensors, gas sensors are also attached to a kitchen fire safety system. Gas sensors look out for combustible hydrocarbons. Domestic LPG gas is made up of primary butane and propane. Gas sensors sense these combustible hydrocarbons and send information to the controlling device.
Smart magnetic gas knobs and values vastly reduce the incidence of domestic kitchen fire accidents. IoT will also let you to remotely operate all your kitchen appliances.
Elder and Child Care
IR sensors are used to monitor breath, blood flow, blood pressure. Other body vitals such as body temperature, pulse rate can also be monitored using IoT devices. This live data of Patient/Elder will be shared with the concerned doctor or any authorized person. This live data will help a lot in making informed decision making and save valuable time during medical treatment.
IR sensors are also used in smartwatches for blood flow monitoring. Iot enabled smart medical devices will drastically improve the quality of medication given to critical patients.
IoT enabled baby monitors provide data on baby movement and sleep patterns.
In-Vehicle safety
IoT and AI in tandem are moving towards the goal of driverless vehicles. Apart from this goal, Iot can provide a lot more safety perks in your vehicle.
A Carbon monoxide sensor device can detect the level of CO in your vehicle. CO is an extremely poisonous odorless gas prevalent in high traffic stagnant traffic conditions. Odorless nature makes it difficult to sense it manually. CO sensor, in turn, can alert the passenger on safety precautions.
IoT devices can also detect driver body vitals and work as an anti-sleep controller. Data of driver, vehicle speed, location(GPS), can be accessed through remote devices. This system will greatly improve freight transport safety.
Indoor garden Management
Garden maintenance requires continuous monitoring and watering. IoT enables remote monitoring and maintenance of such gardens at ease.
Humidity sensors and sprinklers are the main components of the garden management system. Humidity or wetness of the soil with timestamp data will be sent to the IoT server. The server will take the decision of operating the sprinkler to water the plants. Live data will also help in manual watering of plants through remote devices such as your smartphones.
Conclusion
IoT with a network of sensors and decision-making processors will help you to have remote access to almost every appliance at your home even when you are out at work or travel. These devices are highly reliable and they ensure the safety and security of your home. IoT will revolutionize your day to day activities so that you will never be out of control of your home appliances and be at peace of mind at work or at play.
TronicsZone
At Tronics Zone we provide reliable and customized IoT hardware for all your industrial needs and domestic needs. Specializing in low-cost superior quality design since 2003, we are providing quality services in Electronic product design, software development, Prototyping & Manufacturing according to custom specifications.
NOTE: This article/blog is Copyright TronicsZone. It cannot be reproduced without prior written approval.